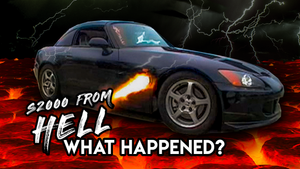 What happened? 'S2000 from Hell'
If you've ever been interested in an S2000, which I imagine most car enthusiasts have, then you have probably searched for videos of them tuned up and you have most probably stumbled across a video titled 'S2000 from Hell'.

We all know how capable the S2000 engine is, they can be tuned up to crazy numbers, around the 1000bhp with some forced induction. But back in 2007 when the video was first uploaded (It says 2009 but it must be a re-upload) the S2000 from Hell was tuned to 701bhp which was crazy for something road legal and with stock internals. It sparked my love for straight through fender exit exhausts, this thing is deafening! The stock 4-cylinder engine benefits from a Borg Warner S372R turbocharger, a T1 race manifold and 1,000 cc Bosch Injectors and dual Tial 44mm wastegates, everything else is stock. Stock Motor, Transmission and diff.
Here's a video of it getting tuned up ...
I stumbled across the video again recently, and it still holds up today. Youtube as we know it is dominated by street racing videos if you are interested in the car scene but this was the first quality video (by 2007 standards) I saw on the net of some decent street racing which is probably why its stuck in my mind 10 years later. So I've seen the video again recently, its as good as I remember, the exhaust spitting flames while hitting the high rev limiter still puts a smile on my face and so I wonder, where is this car now? How far did they push the engine and is it still going now?

After a few searches I found out where it is today, or should I say where it isn't.
I found a post on a S2000 forum from the owner dating back to November 2007, and I quote- "I was playing on the street with a busa and lost control at high speed and smacked a wall". Atleast it went out doing what it did best.
It looks as though the 'S2000 from Hell' did not last long.
Luckily the owner was okay and there is a thread online of the owner building another S2000 with a more drag racing setup, but no sign of completion. Its a shame to see that a legend in my mind is no longer about, but thank god the video is still there, and with nearly 4.2 million views, I'm sure I'm not the only person who wants an S2000 because of it.
---
97 comments