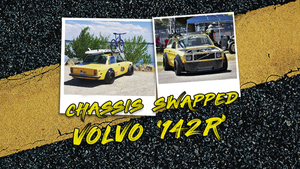 Shane's chassis swapped AWD Volvo '142R'
Everyone I know wants a classic car. Personally I love all classic cars, they all have charm and character that nothing has these days. So why don't we all have a classic if we all want one? Well, we're all too used to the modern comforts we get with something made this decade. Air conditioning, power steering, ABS, airbags. Whats the solution? Nothing I thought until recently, but then I stumbled across Shane's Volvo 142 build (@blackbndt).
Shane's a sensible guy. Like you and me he wants a retro Volvo 142 but he also would like a bit of air conditioning as well. So he did what any real car guy would do and after a lot of consideration and measuring he tore apart the 142 and a donor Volvo V70R to splice the two together. Shane now has a classic Volvo 142 banana yellow body but with all the modern engineering of the newer chassis and technology that comes with it. Not only that but Shane has also swapped the V70R interior into it as well just to make it even more of a comfortable ride and also kitted it out with some old school looking wood trim just as a hint to what was considered luxury back in the 70's when the car was built.
Exterior wise the car hints to the badass-ery that's lurking beneath with some 6" wide fender flares on the front and 4" on the rear to tuck the wider track of the V70r and the 10.5" wide NT03 style wheels. The front has a custom splitter to aid in the aero department and also allow airflow to the intakes and coolers stuffed behind it. His main target for the build was to get it complete enough to be able to pick his kid up from the last day of school in it, which he achieved and makes my Dad borrowing a Range Rover Sport to come and get me look really lame in comparison.
So whats cooler than a 1972 wide arch Volvo 142 with AWD, a 2.3 turbo engine, AC, ABS, heated seats and cruise control. The answer is 'NOTHING'.I really admire Shane for his 'fuck it' attitude which lead him diving head first into this build and consistently putting in a huge amount of time into building it into the monster it is today.
He is still working hard on it now and I don't think it will ever be one of those build that ever gets finished. Power mods will be coming soon with turbo upgrades and a tune to make the most of the bulletproof Volvo engine.
He's worth a follow on Instagram as he documents a lot of his work, not only does he ask for the community's advice on certain decision's with the car but he puts a lot back into the community and has been a supporter of #ProjectOwnersClub from day one for which we can't thank him enough.
---
2322 comments