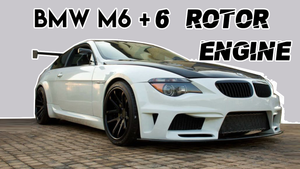 BMW M6 - 6 Rotor engine swap
We're used to seeing crazy builds by now, especially engine swaps.
LS S2000, seen it. Coyote Ford F100, seen it. 2JZ Datsun 240z, seen it. K20 BMW, seen it.What about Rotary powered BMW, erm, can't say I have. That's a big clash of worlds.
What about a 6 Rotor engine in a BMW M6? Nope, never.
I've been thinking about writing about this project for a few months, and I still look at it and think, who on earth dreamed this up?!

Well, over in South Africa a company called Kiwi-RE took it on. The BMW M6 was ripped apart from its 5.0L V10 power plant which gives the top of the line BMW 500bhp to work with and was then given a completely custom 3.9L with 6 high revving triangles which hit 480bhp at only 5,500rpm, which for a rotary is the equivilent to skipping through a meadow on a summers day. Another 6 rotor build by the same company reached over 800bhp at a higher RPM. It's as insane as it sounds, and it literally sounds insane. The 6 rotors pump the exhaust gasses and endless noise to a pair of 4"+ exhaust tips cut into the center of the MSport bumper. The gearbox is a Samsonas 6 speed sequential paired with a triple plate clutch, I've seen and heard videos of it running, but I really want to see and hear it launching and shifting through the sequential, but I couldn't find any.
The chassis also got upgrades to compensate for the potential power. Suspension was changed to KW adjustable set, and the front brakes were replaced with a set of 10 Pot calipers to make sure the stopping power was as ridiculous as the rest of the car.

The interior was also stripped out for some lightweight buckets seats (most likely Aluminium), the steering wheel was replaced with a dished Sabelt wheel and the rear of the car became the place for an oil tank, as I can only imagine how much oil a 6 rotor goes through.
I initially saw the car for sale on Facebook for the equivalent of $95,000 but I have no idea whether it was sold. One thing is for sure, its bamboozled the hell out of me since I saw it, and I hope its out there somewhere surprising the hell out of people, especially the BMW community :)
---
111 comments