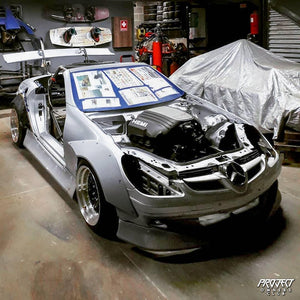 Hemi Mercedes SLK Drift Build
There are 3 essentials for any drift build, otherwise, it won't be a drift car.
You need rear wheel drive, good and low weight car, and power to shred rubber.
An overlooked option for the sport is the Mercedes collection of sports car / roadsters. Well not by the guys at @borderline.chile who have opted for the Mercedes Benz SLK350 as a base for their creation (not yet complete).
This chassis is so good that Mercedes have been using from 2004 to 2020 and may still use it but revise it for the future. They are currently on the third iteration of the car. This is the first time I've seen one used for a project car and a drift build. Mercedes put a lot of work into this convertible using a lot of high strength materials to improve rigidity and safety of the car. This is a big positive for it as a drift build as it will minimize chassis flex, and the additional rollcage should completely illuminate it. I hope they keep the electric roof though.

The body has been given a fiberglass widebody kit, the car looks at least 8" wider. The interior so far has been stripped and fitted with a very robust looking roll cage. Most importantly, the engine has been upgraded with a Hemi V8 bi-turbo. That's going to have no problem pulverizing the rear tires. 
The 5.7L lump of American muscle looks like its been plucked from a Dodge. This lump is used in the Charger, Challenger and Magnum and depending on its age its either a 345bhp or 370bhp naturally aspirated, no boost. With this one going to a bi-turbo set up then you can expect a fair bit more than that. And they say there's no replacement for displacement!
I look forward to seeing some progress on this build, a lot of thought, planning and effort has already gone into the build and the target concept below.
---
4 comments