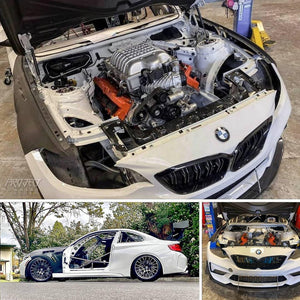 B-Hem-W - Hellcat BMW M2 Competition
If there is one thing that really floats my boat and tickles my pickle its a mad engine swap. making cool cars cooler and putting engines in cars they deserve to be in. The base car started as a brand new 2020 BMW M2 Competition, one hell of a nice car to start a project with and a pretty penny too, but 404bhp really isn't enough for some people, the replacement in this case is a Hellcat 6.2L HEMI which exerts a monstrous 717 horsepower and 650 lb-ft of torque.

Personally I think the BMW 2 series coupe/ M2 is the best looking of the recent generation of motors so I'm always happy to see a modified example but this one is taking the biscuit. The interior has been stripped to fit a full cage and carbon fiber front wings, bulging hood, roof ,trunk and even interior door cards have been fitted for the extra weight reduction. I don't think the standard interior trim is returning into this mad machine. At this point the list of what parts are remaining from the original M2 Competition is much much shorter ... from what I can see, only the shell and front bumper remain haha!! Insane.

You might agree that the HEMI looks right at home in the BMW, and you may be as surpassed as me that it fits so well in one for the smaller BMW's engine bays, I would not expect it to fit in between the two front towers but it looks great, I'm sure there was some work done that I can't see but its well done either way.

I encourage you to check out the build and its progress on Instagram @filippo_speed_shop and the owner @soco_cars_and_track
---