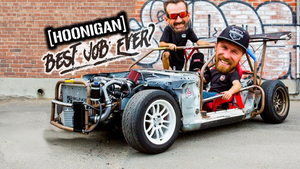 The Hoonigans - Best Job Ever
If you don't know who The Hoonigan's are and your seeing this on my website, then you need to get your priorities right.
They are taking over the drifting and project car community by storm. These guys are living every car guys dream. 
Not only do they build their own project cars to shred tires in their small parking lot but they also have guests bring in their own projects to showcase too. They make our project car features on this site and our Instagram page look incredibly tame in comparison.

A couple of their projects that have taken over the internet regularly getting over 250k views each on YouTube. The main two being the 'Shitcar' and the 'Shartkart'. They also show each member of the teams private project cars too. With all that content they are now posting daily and with the set up they have, being a large Garage, all the right tools, man power and skill, then their videos each have a lot of quality content. Not like similar Project car Youtubers who tackle one issue per video, these guys will build a car in a handful episodes.

So, have you heard of 'Hoonigan' before? Of course you have. If you're on a website like mine you have definitely seen it on the side of Ken Blocks 'Hoonicorn' (badass twin turbo Mustang tire slayer) or seen some guy wearing the t-shirts at a car show. So it seems Hoonigan as a company and brand has many different parts. They have a Rally Racing Divison which was set up in 2010 by Ken Block. It makes sense as to why the branding is all over his crazy 600bhp Rally and Gymkhana Ford Fiestas and everything since. Obviously there is a large clothing brand associated with this, which is great. Who doesn't want socks that say 'Clutch' and 'Gas'!?

The Boss, Ken Block himself.
You don't know who Ken Block is? Get out of here. Leave. Educate yourself!
He was a co-founder for DC shoes back in the day and has competed in most extreme sports, so its only natural that he shifted his focus towards rally driving. In 2006 he jumped a Subaru Impreza 171ft for a TV show. Its no surprise he was originally sponsored by Monster energy drinks as this guy must inject that stuff straight into his veins. Ken then started up Hoonigan and took over from Monster and created the Hoonigan Rally division. 
Ken then started the Gymkhana series. These are highly cinematic shorts of Ken tearing up obstacle courses in his AWD rally cars, from San Francisco to Dubai – so far 9 Gymkhana's in total and one 'Climbkhana' which was Ken blitzing his 1400bhp 1965 Mustang up Pikes Peak in plumes of tire smoke. If you have 2 hours free, I highly suggest you watch or re-watch them.
So that's the Hoonigan's boss, the guy all the employees have to impress, so you get the idea.
P.S. He's also self titled himself the HHIC of the Hoonigans, the "Head Hoonigan In Charge"

What's there Job Role?
Are they purely for our entertainment? Kind of. As someone who is very focused on social media, I have to respect whoever came up with the idea of this team. These guys are basically badass brand sponsors. Much like David Beckham, when he plays football well, you buy his Football shirt, well the more tires these guys shred and bash bars they put to the test then the bigger the Hoonigan brand grows and its by far the best example of this kind of media hype I've seen. The YouTube channel has been uploading daily since March last year (2017) and they have over 2 Million subscribers and same amount of followers on their Instagram page where even pictures of their merch gets 30k likes (I'm not jealous at all).

Building Crazy Shit - The Projects
The Shitcar and the Shartkart. These two cars embody what a project car is all about, pushing limits, real life budgets and just hacking shit together with a crew of solid guys. The only difference is these guys have a lot more skill than the average Joe so their shit car is better built better than most projects you see on the 'Gram.
Even though Hoonigans have probably got a a very healthy bank balance, their projects are relatable. The Shartkart was a $200 Mazda Miata (MX5) which was stripped of all the weight they could get off it and then caged like a larger go-kart. Its recently got the JDM 1.8 upgrade as well as some boost. The Shitcar is a BMW E36 that was picked up for $350 and came with Lambo Doors. Its got some sick Red, White and Blue livery while rolling on smoothie wheels and last week it got a rear mounted turbo for the fun of it.
Everything built in or brought to the garage will end up hooning around in their yard, another example was a side project of theirs. A Volvo with the rear end chopped off, large dolly wheels added so it would do the tightest donuts and end up making the driver bring up their breakfast.

Conclusion
I'm sure these guys have other jobs other than just creating rubber scented clouds, but if I had to keep my sensible day job for the rest of my life but there was a drift kart in the corner that I could go and drift anytime I wanted to, I'd be about 80% stress free in comparison. I think this is a awesome job, they obviously put in a lot of hard work and they are very skilled with mechanics and engineering, so to me they have the best job in the world. Snooping around other peoples builds and hacking their own shit together as well, overheating radiators, blowing head gaskets and tearing teeth out of diffs is pretty damn awesome.
Hoonigans, we love you.
---
90 comments