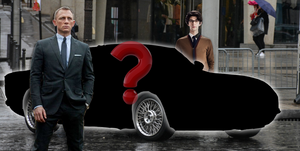 The Bond Car that nobody's suggested yet... Surprisingly
Now I'm not saying this should be the main car, we know the next Bond car is going to be the DB11, the last car was the DB10 and its always an Aston Martin. But in the last few movie he's been in Land Rovers and Jaguar XJ and XJL's. I think this should make a cameo for sure. What car? ….
The car is the 'David Brown Speedback'.
That's right, the company and the person who put the 'DB' in the DB10 and 11 and all it predecessors.
This car was released mid 2017, but at 2018's Geneva motor show there was the Silverstone Edition which upgraded to 20 inch wheels, removed the chrome bumpers and grille so it looks even smarter and leather interior that I would love to get even a watch strap made from. Less is more with this model for sure.
Now this car obviously borrows its unique style from the early Aston Martin DB cars, especially the now iconic DB5.
Its built on a Jaguar XKR chassis with a 600bhp from Jaguars V8 Supercharged engine, a tried and true combination. Plenty of grunt and comfort for a super spy such as James Bond, and of course he's not going to turn down a car that looks like his darling DB5. 4 seats, so it would be better for us tax payers paying for multiple cars for Bond and his associates to travel around in, and he could even Uber in his spare time. I'm sure the electronics are far more reliable too, so 'Q' would find it much easier to wire in smoke bombs, missile launchers and ejector seats. Whats not to love!
Why does it not bare the Aston Martin name like the other cars that carry the DB initials? Is this too high end for Aston or not good enough? Are they even joined anymore? Has David Brown separated from the Aston Martin clan and going it alone again and Aston continuing to use his initials?
Well, whats Aston put their name on to match this? The new Lagonda Taraf, Aston's 4 seater equivilent. I know which I'd prefer.
The Lagonda looks like the front and the back were designed by two different people. The front looks like a glorified Ford Focus, but its lost the classic Aston Martin grille shape! The rear C pillars are huge like a Buick Regal but I must admit the modern tail lights do look less awkward than the Speedback who stayed a little too true to the earlier DB's.
So the Speedback is a 600bhp, 4 seater, Exclusive, Classic looking, relatively unheard of car. Price however is a bit of a draw back. The Aston Martin DB11 would set the the MI6 and the tax payers back a healthy £144,900. The Speedback Silverstone Edition is a £744,000, but the non Silverstone edition is £120k cheaper if he fancies saving 'M's budget quota.
What do you think, is there a better candidate for a Bond car?
Instagram: @projectownersclub
---
6 comments