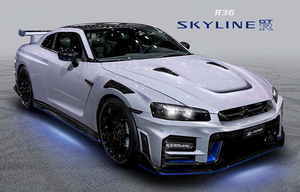 Nissan GTR R36 Concept Art - @romanmiah
Roman Miah is back at it again. A few months ago he broke the internet by re-designing the Toyota Supra MK5 with more design cues from the favorite Mk4, and now he's back recreating the Nissan 'R36' based on an R35 GTR with elements from the iconic R34.
This creation has gone so viral that Kim Kardashian wants @romanmiah to airbrush her next! Only joking, but every time I go on my explore page this week, one of these R36 iterations is drawing my attention.
I'm surprised now looking back that the R35 didn't cause as much of a shit storm as the recent Supra BMW fiasco when the R35 design was released. From the original 'modern day' Skyline, the R30, the design changes have been modernizing yet keeping the same design blueprint, and then the R35 GTR came along, turned the headlights 90 degrees, gave it big gaping front bumper grilles and the only hint that it was in fact part of the family was the famous glowing doughnut rear lights.
This concept, which I really hope gets taken on board by Nissan, has kept the modern/futuristic sharp lines, aggressive coupe roof line but merged a front end very much inspired by the 2 Fast 2 Furious hero car, so much so that one of the concept art designs donned the blue and white livery of Paul Walkers idolized car.
 Please check out @romanmiah on instagram 
---
137 comments