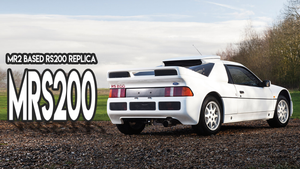 MRS200 - MR2 based Ford RS200 Replica
I'm a lover of the replicas of the car world.
But I should follow that sentence up with a disclaimer, I only love the really good ones. There are a lot of turds out there in the replica kingdom.
It's easier to replicate a Audi RS5 on a A5 body than it is to make a Shelby Cobra out of a Z3, and usually the devil is in the details.

I'm not a fan of the Ferrari 250 GTO on a Miata body, the proportions don't add up. I like the Ferrari 456 kit based on the Ford Cougar, they're surprisingly convincing from the exterior but getting a interior up to the quality of a Ferrari, even a fake one, is a hard task.

So what makes the best passable Replica (If you're one of those people that want to pass it off as real) You need a car that's scale is similar to the donor, similar wheel base. An interior that's easy to replicate would be high on the list for me. Exterior kits are available, but trying to find a steering wheel that looks like a genuine Lamborghini wheel is impossible, and wrapping a standard steering wheel in cheap tan leather and embroidering the logo in is even worse.

Anyway, I was at the Stoneleigh Kit Car show a couple months ago now and there wasn't much that jumped out at me, in Hindsight I realised I missed one of the indoor displays where I'm sure they had the really tidy replicas. But there was one build right near the entrance that has had my brain in 'What if' mode ever since I saw it. It's called the MRS200. A Ford RS200 replica based on the MK3 MR2 or MRS as its known in some of the world. Now, why is this perfect?

How many RS200's were made? 201.
A very rare car, a car that can rarely be compared to the replica as it would be like having Bruce Wayne and Batman in the same room, it's almost impossible.

What powered the RS200? A 1.8L mid engine straight 4.
Albeit that was turbo charged to 250-300bhp but, that is the set up in the rear of the MR2.
And like I've mentioned in a previous blog on here, the MR2's engine is upgradable. A turbo kit, a K20 VTEC swap can all be done for more power and growl.

What about the interior?
Both cars a relatively basic when it comes to the interior. I'm sure it wouldn't be hard word to make a replica fibreglass dash but I think a set of bucket seat, MOMO steering wheel would convince 99% of people. You could even completely strip the interior, add a rollcage, single seat, carbon doorcards and no carpet for extra badass points.

What about wheels?
The MR2 set up is a 4x100 PCD. A very common set up, and a cheap option too going for 16" wheels. A set of Rota Grid-V in 16x8 are only around £500 new and the second hand market for 4x100 sets of wheels is very much alive on eBay and very cheap.

Cost?
A very reasonable £2500- So it may be the cheapest Kit Car out there to build.
Additional cost for the rear window which I'm unsure of cost. But the unique part of the MRS200 replica I saw was that they kept the replica roof off the car, so had a very unique convertible MR200 replica which is a serious head turner to anyone who knows the car.
MR2's in the UK are going from anywhere around £800 and up, and not many have 'high mileage' and if the issues are bodywork related, it's going in the bin anyway.
---
101 comments