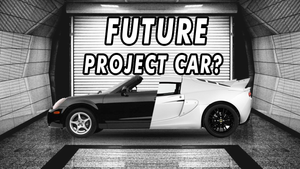 Future 'POC' Project Car - Thoughts?
The Car
A sporty 2 seater, mid-engined, rear wheel drive car with a reliable Toyota engine.
Most importantly a solid power to weight ratio as well as good front to back weight distribution.
Am I talking about the Lotus Elise or the often overlooked MK3 MR2 Spyder?

That's right, that describes both! The bug eyed and often overlooked follow up to the gorgeous 1990's MR2 and the highly regarded track day car and race weapon the Lotus Elise are essentially the same, but one is significantly prettier and more expensive.

How deep do the comparisons run with these two cars that are often considered completely different purely based on looks?
Well, the stats for both cars are practically identical for both 2000 models running 1.8 engines. The MR2 runs 138bhp and the Lotus Elise S Sport has 134bhp. The major comparison in the stats is that the Lotus launches itself to 60mph with less horsepower in just 5.9 seconds whereas the MR2 is 7.7 seconds. The MR2 weighs in at just over 1 tonne, but the Lotus fluctuates in weight like Christian Bale during his film career as the Elise can weigh anywhere from 866-931kg which obviously explains the 1.8 second difference in 0-60. The Lotus even uses a tuned Toyota engine.

Why am I comparing these two cars?
Simply, because I want both. I mean for years I have wanted a Lotus Elise since getting a Hot Wheels Elise 340R when I was a kid. I've wanted an MR2 for about a week now after all this research especially after seeing all the comparisons.
I'm a former MX5 (Miata) owner, I let its 'Hairdresser' image ruin it for years until I was taken passenger in a MK2. Its lightweight body, agile steering and rear wheel drive sunk me in big time and I soon had one for myself.
Well the switch flicked in my head recently about what an absolute bargain the MR2 has become and those that have driven both have compared them quite similarly.

My curiosity was spiked 2 years ago when 1320 posted a video of a 900bhp Spyder tearing up the streets. It had a turbo K20 Honda engine, sequential gearbox and it beat and embarrassed everything it raced all whilst being tuned down to 700bhp for the street and even went 'door to door' with a Kawasaki ZX-14 Super bike which only shot ahead because the MR2 ran out of gear just above 160mph!


This is something I could get on board with. I miss the simple raw charm and underdog status my MX5 had. It wasn't fast but your butt is 2 inches above the floor and the engines can roar into high revs. As much as I love my modern daily driver with 'infotainment' system, airbags in everything and great MPG on my commute to work, nothing beats what is basically an engine pushing 2 seats down the motorway.

So what am I thinking?..
When I can, I think I'll be buying an MR2 as a base to a project and maybe potential kit car. My own kit. I've got some crazy ideas, Mainly replacing the large front and rear lights with something more streamlined and in proportion to the car. There are some great kits out there already but I'd like to do something completely unique. Most notable is the DNA Ferrari 360 and 430 replica kits which look absolutely spot on and are probably the best replica kit but I don't want a fake Ferrari, but it shows how useful the MR2 set up is. Another great kit which I'll probably pull a lot of inspiration from is the Turismo Avalanche, a Porsche inspired kit which I love apart from the slightly off center headlights (in my opinion), although the company has since been renamed to Rennen and the V2 GT has made some changes but at a price of around £12k not including the car its well out of budget. Luckily there are good examples of the Roadster to be picked up for under £2k which is good, and considering what I'd like to do, it doesn't need to be in the best cosmetic shape, but mechanically decent.

What will my plans be?
Like I said, I'd start with the lights. At the moment I'm thinking maybe Jaguar F-Type headlights and Land Rover Evoque rear lights.
I've also considered Audi Q3 headlights and Alfa Mito rear cluster. Its yet to be completely decided as proportions are hard to take into account when only looking at pictures, but most of my picks will be smaller in comparison to the standard MR2 bug eyed headlights.
As for the rest of the car, I'll try and get a hardtop, I think the roof line and angle of the windscreen are very sporty, hence why its used for the Ferrari kits. I'd like to widen the body and arches, lower the arches as well to give an illusion of it being lower than it is standard without the use of expensive coilover kits. Hopefully will be able to achieve a nice natural stance that way or with at least a spring kit. I would try and remove as much weight from the body as possible when doing this to avoid piling extra weight onto the car and no improving it in anyway, so will most likely remove the wings once molds are taken and use fiberglass or carbon molds, depending on budget.
Luckily the MR2 comes with the very common 4x100 wheel PCD, I'm not sure whether a 16 or 17" wheel at the moment as it depends on suspension and how wide we go, but we wont be limited to an awkward PCD which is lucky.
Interior, I'd strip this out as much as I could but keep it looking nice. If I can cook up some carbon details for the dash and door panels, then that's what I'll do, but I think I'd definitely upgrade to bucket seats and harnesses.

Power!!
Now I've been looking around a lot, and the MR2 not very well supplied for when it comes to power upgrades. I think if I could get a solid car and engine, I'd do a full exhaust kit for added noise and becuase the CAT is a common issue of getting clogged and also new air intake and see how that runs. Hopefully with some lost weight on the car it should make for a quicker ride.
Turbo the standard 1ZZ engine? I'm not a fan of this idea, once again just because its not a common set up at all, and if there's not enough info out there for me to research and plan it, then I wont bother. The common upgrade is for the 2ZZ which is used in the Celica GT-S and the Lotus Elise. Instead of knocking out 140bhp like the standard 1ZZ, this makes 190bhp which is a handy extra naturally aspirated 50bhp to push a car that weighs just above 1000kg. After a quick eBay search it proves to not be as rare a find as originally thought and not madly priced either.
The third option, which is my favorite, is Honda K20. I've recently become a huge fan of Boostedboiz on Youtube and their Honda powered project cars. They use mostly K24's in their projects but I have been converted into a Honda lover. The standard K20A bumps out between 210 and 220bhp and the K20A1-K20A6 give out at least 150bhp and redline around 6800 and above.
Having watched Boostedboiz builds, I think a K20 swap would be relatively on par with the 2ZZ but with added NA power and with HUGE upgrade potential, most posted K20's can easily see the 400/500bhp mark with stock block. The K20 is also the route most Lotus owners go down when the 2ZZ gives up or is not powerful enough, so I think in the long run I'd go straight to the Honda option.

Conclusion.
I've honestly thought long and hard about this. I really want a 'Project Owners Club' Project car. I've considered the gorgeous RX8, but as much as the car itself is amazing, the tax and insurance on that car is mad in the UK and rotary specialists are a rarity and engine swaps involve a lot of work. I thought about the classic Mini, but as much as I adore them, the parts are not getting any cheaper and neither are the cars themselves. I've contemplated the Nissan Stagea, a cousin to the R34 and R35 GTR's depending on the year, once again a wolf in sheep's clothing but the GTR front end swaps are very expensive and I would have to do that! At the end of the day I want a car that's not expensive to buy, not expensive to run and tax but will be a fun second car and base for some fun projects to share with you guys. If I could build a unique kit for the car that others would like to buy then that would be my dream come true. And if I could do an awesome engine swap to scare some people at the lights and show off at Car Shows then that would be another great achievement. The MR2 ticks all the boxes, easy to afford, easy to run, massive potential and most of all a massive underdog status. Let me know what you think, post comments below.
Also, support us. Share this blog post or the others, share our Instagram. Buy our merch, profits will go towards the upkeep of the site, blog, and Instagram but also go towards the Project Car mentioned above. We want everyone involved in it :)
---
87 comments