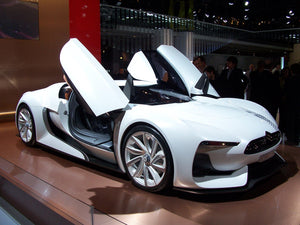 Citroen GT - Ambitious Build from Scratch (credit: Quso)
At the 2008 Paris Motor Show there was one concept car that grabbed the attention of all the media in the place. Was it a Ford? Lamborghini? Nope. A Citroen GT.
Most people will recognize this as a playable car in Gran Turismo since 2008. Apparently only 6 were made and sold but its hard to find a confirmation on that. In other words, its rarer than Unicorn shit.
It has an incredible unique stance. Its as wide and long as a Land Rover Discovery and 42" tall. Bare in mind that the original Ford GT40 were named as such because they were just 40" tall and they wern't rocking bling 21" rims under the arches.
So why am I talking about this 2008 Concept car that none of us will probably ever have the pleasure of seeing in our lives?
Well, one guy named 'Quso' on MadMechanics a kit car forum in 2012 decided to build one from scratch. And that's not an easy task when there are less than 6 on the road to use for reference, luckily there is plenty of reference material in the digital world thanks to the games its featured in.
Now the main reason I'm writing about this build is because as far as I can see, it never finished, and I really want to know what happened to it because a lot of money and time went into it.
The body was actually CNC machined out of foam from a 3D model. The door was 3D printed section by section on a desktop sized printer.
The plan was to have the clone GT powered by an LS1 mated to a Porsche Boxster S Transmission but it doesn't look like the build got this far as in 2015 the last post read 'Hey guys no progress as of yet but i hope work will resume in near future'.
So if you know this build, if there is a thread somewhere else on the internet if you have the owner (Quso) on Facebook or Instagram or Tinder, please let them know that I want to know what happened to this one of a kind project!
---
1 comment