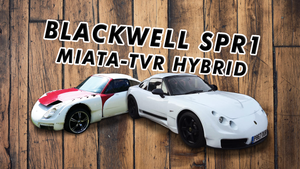 Blackwell SPR1 - The Miata/ TVR Hybrid
Firstly a bit about TVR. The TVR is one of the most British of all car brands. Even the name of it is short for Trevor, the most British name ever. Founded in post war Britain in 1946 and made it's first car in 1949 with a 1.2L Ford engine pumping out a break neck 35bhp. What a machine. Later used the Rover V8's and most recently Cosworth tuned Ford V8 on the 2019 Griffith. 
Anyone who knows anything about TVR will know it's never far from trouble and closing down or having strikes. From 2004 to 2013 the company was owned buy some Russian guy who seemed to dismantle the company, piss off the employees, move the body construction abroad and then bail. However, also during this time TVR also made their best models. They were cars that any guy wanted postered on their wall. Dual exhaust straight 6, flip paint from factory, 18" aluminium wheels and a 0-60 in under 4 seconds. As much as this car was any petrol heads wet dream the company still suffered, and TVR produced nothing from 2006 onwards. Chassis and fibreglass bodies lay bare and open to the weather where they were left. 
So what if you wanted a TVR but couldn't get one. It wasn't until 2010 that a deal was struck to supply replacement parts for the TVR's already on the road and I'd hate to know what they would cost. What would you do if you wanted the styling of a unmistakable Sagaris but reliable and easily replaceable components?
You'd mold a TVR shell to the body of an MX5. Easy.
 

That's exactly what Blackwell Motorsports have done with the Blackwell SPR1. They had a Mk1 MX5 and a fiberglass shell of a TVR Sagaris. Chopping up the TVR into sections and adhering them to the MX5 to make sure the wheel wells lined up to the shorter wheel base and then filled in the spaces in-between using as much of the TVR as possible. Blackwell weren't set out to make a TVR replica though. They've created their own original car with the help of the TVR and made some unique distinctive changes. They have made a custom removable hard top with a larger Audi TT rear window creating a 'fastback' roof line. The rear light clusters are off a VW UP! which helps the rear look more up to date and modern but also allows the builder to use the different style options from the Up!, Seat Mii and Skoda Citygo. The front remains very true to the Sagaris to make sure people shit themselves when they see you in the rear view mirror. 
Blackwell have put some very serious detail into making the kit as compete as possible. They even did a Subaru brake conversion and ground down the SUBARU logo to make 'S P R 1'. Genius!!
Extra effort has been put into the kit to make sure the kits line up perfectly, for example the rear end lines up with the inside of the door jams avoiding bad alignment and the possibility you would have to shave and modify partsto make them fit perfectly which is a common issue with kit cars.

Building the kit for a MX5 chassis was a smart move. Rear wheel drive is always great and the standard 1.6 or 1.8 engines have a variety of bolt on power parts available online. But Blackwell have just completed a V6 conversion into one of their SPR1's, but there have been multiple different engine swaps completed on MK1 MX5's. You can squeeze anything from a 4 cylinder VTEC's, Rotary's up to V8's and there has even been a V12 crammed into the bay for some reason.
The same can be said for the interiors, there a plenty of aftermarket interior parts made for the Miata so you can come out with the perfect kit car.

The SPR1 kit can be bought for £3500 ($4600) which is a fair price for a good looking Miata/MX5 based kit car. Considering the Bauer Catfish costs $13,900 and an Exocet starts at £2995 but can't be used on a day to day basis unless you like the rain. 

I highly recommend checking these guys out and seeing what their customers are building from their kits.
Instagram: @blackwellsportscars
Facebook: /blackwellsportscars
---
159 comments